Virtuoso Advisors
One's destination is never a place, but a new way of seeing things."
– Henry Miller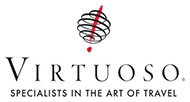 Through our affiliation with Sixth Star Travel we have the privilege of being part of the travel industry's leading luxury network. This organization includes more than 340 agencies with 8,900 elite Advisors in 20 countries throughout North and South America, the Caribbean, Australia, and New Zealand.
Travelers who use Virtuoso's Advisors have access to more than 1,300 of the world's premier travel providers, as well as exclusive services, experiences, and products. A Virtuoso Advisor can get you access to accommodations, locations and amenities simply not available elsewhere. They specialize in partnering with innovative companies to provide access to unparalleled travel experiences such as private tours of the Louvre after hours, tours of Cartier's hidden atelier, Cirque du Soleil birthday parties in the Grand Canyon and even traveling into suborbital space on Virgin Galactic.
The Virtuoso Voyager Club membership is complimentary to clients sailing on luxury cruises providing a complimentary exclusive shore excursion or generous shipboard credit, a welcome aboard reception, a dedicated onboard host and the opportunity to meet your fellow cruisers. This unique offering is available on selected luxury cruises, including those on Regent Seven Seas, Silversea, Seabourn, Silversea Crystal, Cunard, SeaDream, Oceania, Azamara, and AmaWaterways. So be sure to ask if your cruise is a Virtuoso Voyager Club Cruise.
We're specialists in the art of travel. And together with the Virtuoso Network of suppliers, "We Orchestrate Dreams."
Visit Virtuoso Site
Virtuoso Blog
Article